TNPSC GROUP 1 - SCIENCE AND TECHNOLOGY
Mode

Teaching Languages

ENGLISH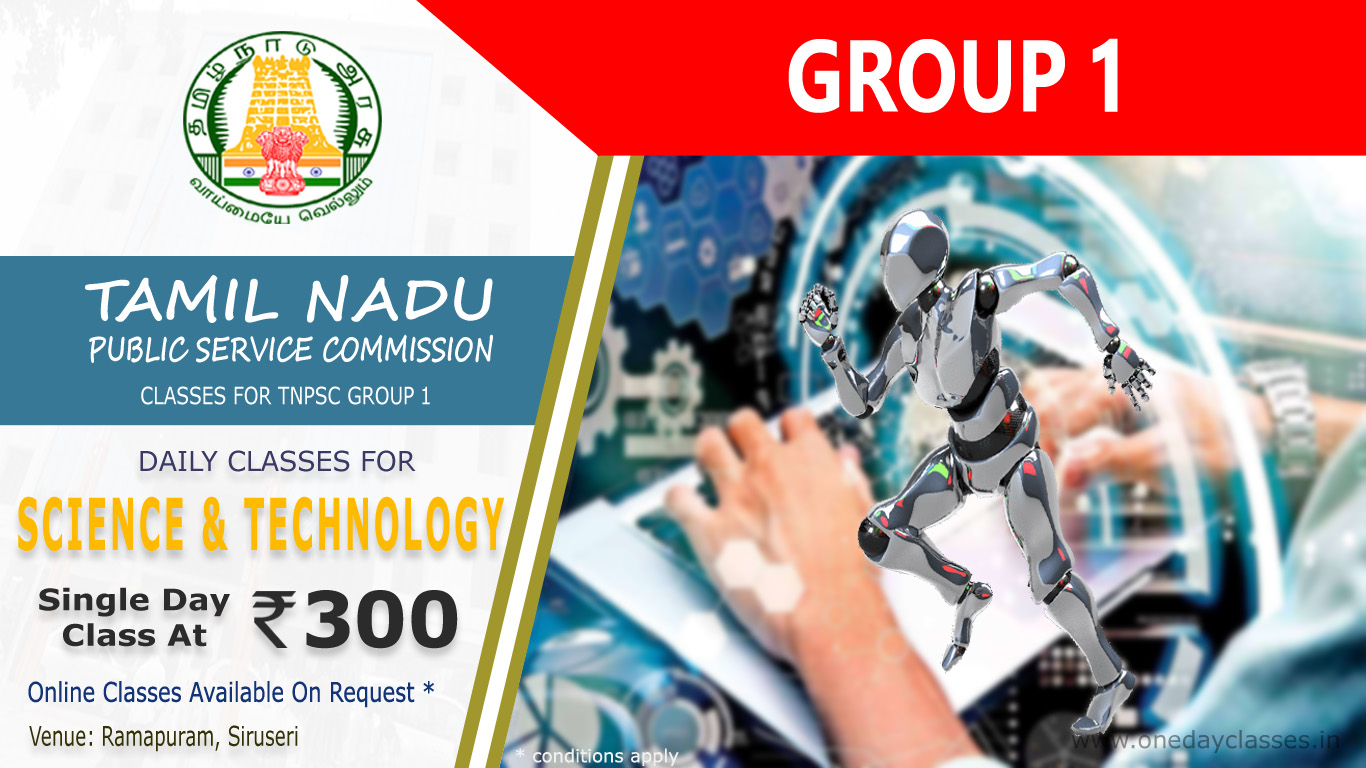 Introduction:
As Mandated by the Constitution of India, The Tamil Nadu Public Service Commision Conducts Examinations for the recruitment of personnel into the state's public service. For the year 2019, the Combined Civil Services Examinations (Group 1 Services Examination) is scheduled to be conducted at 3rd March 2019. Just a few months left for the tnpsc group 1 services examination, your preparation should be at full swing. If you are an aspirant for TNPSC Group 1 Services Examination and you who haven't started any preparation for same; but you are confident of TNPSC Examinations preparation, then this course is FOR YOU. Utilizing the time left efficiently, it aims at providing intensive training for TNPSC Group 1 Services Examination.
This one day course for TNPSC GROUP 1 - SCIENCE AND TECHNOLOGY has been introduced by keeping in mind the need for all those aspirants, who weren't able to take regular classes earlier but want to take TNPSC Group 1 Services Examination now.
TNPSC GROUP 1 - SCIENCE AND TECHNOLOGY
Classes On
Daily (Classes and Test)
Duration
10 Hours (daily)
Why Oneday Classes?
One Day Classes is an ON-DEMAND classes institute. It addresses the mental fitness of the aspirants to take up the various competitive exams. It is like, one day-one topic or one day-one unit or one day-one chapter or one day-one subject depends on the demand of the aspirant community. One Day Classes practices aspirant driven methodologies. It is inherently modular. Aspirants have the provision to attend classes which are very specific to their requirements. In effect,they have the scope to afford,attend and achieve.
One Day Classes
Afford, Attend and Achieve
Syllabus:
Following is the syllabus as prescribed by the Tamilnadu Public Services Commision (TNPSC)
Physics

Universe ‐ General Scientific laws

Scientific instruments

Inventions and discoveries

National scientific laboratories

Science glossary

Mechanics and properties of matter

Physical quantities, standards and units‐Force, motion and energy

Electricity and Magnetism

electronics & communications

Heat, light and sound‐Atomic and nuclear physics

Solid State Physics

Spectroscopy

Geophysics

Astronomy and space science.

Chemistry

Elements and Compounds

Acids, bases and salts

Oxidation and reduction

Chemistry of ores and metals

Carbon, nitrogen and their compounds

Fertilizers, pesticides, insecticides‐Biochemistry and biotechnology

Electrochemistry

Polymers and plastics

Botany

Main Concepts of life science

The cell‐basic unit of life

Classification of living organism

Nutrition and dietetics

Respiration

Excretion of metabolic waste

Bio‐ communication

Zoology

Blood and blood circulation

Endocrine system

Reproductive system

Genetics the science of heredity

Environment, ecology, health and hygiene,

Bio‐ diversity and its conservation

Human diseases, prevention and remedies

Communicable diseases and non‐ communicable diseases

Alcoholism and drug abuse

Animals, plants and human life.
Course Highlights
One Day Classes
Only Limited Seats are Available. Classroom coaching that you can afford to attend for a single day, with a predefined and well structured study plan by industry experts.
Comprehensive Study Plans
With well-structured study plan prepared by Academic Research Scholars. This Course provides the largest possible coverage of the subject discussion.
Detailed Test Analysis
With our Advanced Test Analysis by our Academic Experts get an in-depth analysis on your strength, weaknesses, current preparation level and required overall improvement. Test Analysis and feedback also given on one to one basis.
One to One Doubt Clearing Sessions
Resolve all your doubts instantly with our experts immediately. Repeatedly revise all difficult concepts time and again for perfection.
Expert Coaching
We are a group of expert academic research scholars with vast teaching expertise.
Fees for the Single Day Course TNPSC GROUP 1 - SCIENCE AND TECHNOLOGY is
₹ 300 /-
Hurry register now, only limited seats are available.
Please fill out the form
You shall use this form to register for the course - TNPSC GROUP 1 - SCIENCE AND TECHNOLOGY. Our representative will call within 24hrs to confirm your registration for the course. If you have any further queries, please call us on our help line numbers. Visit Contact Us page for more information.
We value your privacy. Your email address will not be published. All fields are required.
There is no curriculam information available for this course. Please contact us on +91 94999 53256 to know more.